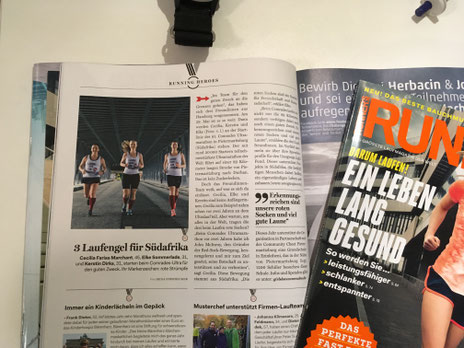 Sooooo glücklich und dankbar... Die Runner's World Deutschland berichtet über uns und die Charity, die wir unterstützen. 
Also ab zum Kiosk und die Runner's World kaufen. 
// 
So happy and thankful... The Runner's World Germany is featuring a story about us and the charity we support. 
So let's go to your local newspaper dealer and buy the Runner's World. 
For our english speaking readers, please find the translation of the article below. 
Three Running Angels for South Africa
Cecilia Farias Marchant, 45, Elke Sommerlade, 31, and Kerstin Dirks, 31, will start at the Comrades ultra for a good cause. Their signature: red socks.
"To push the limit for a good cause as a team" that's the aim of the three friends from Hamburg, Germany. The 29th of May is the day Cecilia, Kerstin and Elke (from left to right) will be standing at the start line of the 91rst Comrades ultra marathon in Pietermaritzburg (South Africa). With approximatly 20,000 starters it is the ultra marathon with the highest amount of participants. The 89 k long track leads from Pietermaritzburg to Durban. That's no bed of roses.
However the girlfriends-team know what they have comitted to. Cecilia, Elke and Kerstin are no beginners. Cecilia, for example already participated in the ultra run two years ago. But why on earth do the three wear red socks during running?
"At the Comrades ultra marathon two years ago I've got to know John McInroy, founder of the red-sock movement, and decided for myself to support and spread his message" Cecilia says. The movement is from South Africa: "The red socks are a symbol for friendship and comradeship", Elke explains.
"At the Comrades we not only run 89k, we also support a good cause. The redsocks are our signature mark", the three Running-girlfriends say. In the run-up to the race they collected donations for the Unogwaja Light Fund. This supports different projects in South Africa which helps people to build up an independent life (www.unogwaja.com).
"Signature mark are our red socks and a lot of cheerfulness."
This year the charity supports a primary school in Ezinkthbeni together with the Community Chest Pietermaritzburg, which is located in the near area of Pietermaritzburg. 1,200 kids are studying there. More information and the donation possibility you find at girlslovecomrades.de