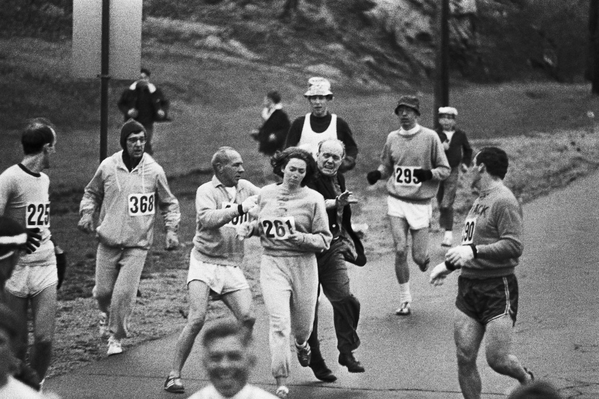 "If you are loosing faith in human nature - go out and watch a marathon"
Dies ist ein Zitat von unser Hero-Läuferin Kathrine Switzer - der Frau, die als erste Läuferin einen offiziellen Marathon beendete: 1972 offiziell zugelassen, 1967 trat sie allerdings bereits als K. Switzer in Bosten über die Ziellinie.  Sie begründete damit den Grundstein des Frauenlaufs. Undenkbar, dass bis dahin keine Frau teilnehmen durfte, weil Marathon als unweiblich galt. Schweiß und nach Luft ringen war nicht femininer Schick (Frauen tuen sowas nicht!). Er wurde sogar als gefährlich für Frauen eingestuft. (Funfact: Es bestand die Angst, dass die Gebärmutter dabei "rausfällt"!)
Kathrine Switzers Passion war es zu zeigen, dass der Marathon Sport durchaus weiblich ist. Deshalb ging sie auch nicht irgendwie an den Start: Sie trug ein Kleid und dazu roten Lippenstift. Eine Revolution! Die Frauen Apparel Industrie hat seitdem mächtig zu gelegt, jedoch ins Besondere die Lauflinie von Lululemon athletica (R) lässt uns die Laufstrecke verzaubern. Sei es mit einem clever gewebten Energy Bra oder auch im Laufrock. Ceci liebt und lebt schon länger den Gedanken "Rock'n'Run" und ihr Schrank hält den Laufrock von Lululemon "Pace rival Skirt 2" in zwei Farben bereit. In rot, ihrer absoluten Lieblingsfarbe. Und für den Red Love Train 2016 in schwarz.  Zusammen mit dem obligatorischen roten Lippenstift (Zitat Ceci nach dem Hamburg Marathon, als sie gefragte wurde wie es war: "Ich hab meinen Lippenstift verloren!" So liebt man sie!) + roten Socken ein absoluter Hingucker. Kerstin hat den Rock jetzt auch einmal Probe gelaufen  und ist begeistert: Die eingenähte Hose sorgt für den nötigen Komfort, ein kleines Täschchen am Rückbund mit Zipper, so wie kleine Täschchen am Bund sorgen für ordentlich Stauraum. Und dabei fühlt er sich toll an auf der Haut. Aber auch, wenn es kein Rock sein soll, die Hosen von Lululemon machen auch einen ganz tollen Hintern. Männer ihr dürft gerne hinter uns laufen.
Wissenswertes zum Comrades: "1923 bewältigte Frances Hayward, inoffiziell startend, als erste Frau die Strecke." Ein Zeichen dafür wie besonders dieser Lauf ist.
---
"If you are loosing faith in human nature - go out and watch a marathon"
This is a quote by our heroin runner Kathrine Switzer, the first woman who completed an official marathon. First time 1967 as K. Switzer and first time accepted in Boston in 1972 as Kathrine Switzer. It was a milestone of woman running. Until that point it wasn't allowed for woman to participate in a marathon, because it was not feminine. Sweat and heavy breathing is nothing for a girl. Girls don't do that. Some even said it's dangerous for women. (Fun fact: some said that your uterus will fall out, when you run a marathon. Ridicoulus.)
Kathrine Switzers passion is to show that marathon could be feminine. That's the reason why she has worn a dress and red lipstick when she was running. A revolution. The woman apparel industry has improved since that moment, but especially the running line of Lululemon athletica (R) let us bewitch the running track. Either if it is the clever woven energy bra or the running skirt. Ceci loves and lives the thought of "Rock'n'Run" for a while now. Her wardrobe counts already two running Pace rival skirts 2 in two different colours. Red, her favorit colour, and black for the Red Love Train 2016. Together with the red lipstick (Ceci was once asked after a marathon, how the race was when she replied: "I have lost my lipstick" - That's why we love her!) and red socks  it will be a brilliant combination. Kerstin now already made a test run with the skirt and is excited: The sewn in pants are very comfortable and a pocket with a zipper on the back + extra pockets at the waistband give space for everything necessary. And it feels so super good on our skin. But even if it's no skirt, the running pants of Lululemon also make a gorgeous bottom. So men, your are allowed to follow us.
Facts about Comrades: "1923 the first woman called Frances Hayward resumed the Comrades marathon, inofficially." A sign for how special this run is.